About Warden's, Inc.
All Our Departments:
Proto Department
Shearing
CNC Punching & Forming
Deburring
Machining
Line Graining
Roll Forming
Welding
Assembly
Plating
Painting
Silk Screening
Hardware Installation
Inspection
Production Control
Packaging
Shipping & Receiving
Warden's, Inc. also offers referrals to reliable support vendors for painting, plating, heat treating, as well as many other secondary processes and services.
For more information, please contact us
Our Offerings:
One-Offs – Warden's, Inc. offers the unique ability to offer small and one-time product turnarounds.
Prototyping – Warden's sets itself apart by offering this unique option in the industry! Our prototype department can affordably handle all of your design needs while maintaining capability to fabricate large quality runs.
Military Standards – Warden's, Inc. adheres to Military Standards and works in tolerances of the industry standard plus or minus .002 in hole-to-hole locations and plus or minus .010 at forming locations. Tighter tolerances can be held as required.
Quick-Turns – efficient and quick production time
Long-Turns
We are Warden's, Inc. Precision Sheet Metal & Heliarc Welding, and we are based in sunny Tempe, Arizona. Founded in 1981, Warden's, Inc. has steadily grown to a wholly owned production business. A family owned company that works with highly qualified personnel assures customer satisfaction with our quality products of precision sheet metal, stampings, forming, and welded assemblies.
Warden's, Inc. prides ourselves on excellent customer service with satisfied clients and successfully customized and completed orders! Warden's, Inc. provides products to a wide variety of customers. From equipment and computer storage racks to 400# tables to the smallest precise custom parts, we can produce it all to certified standards.
A strong reputation, quality control and customer satisfaction with quick turnarounds is Warden's Guarantee!
Warden's, Inc. Quality Control
The quality control system helps eliminate the manufacturing of less-than-perfect items by detecting problems early in their production process. Supplies are carefully screened, services performed are checked, and methods of storing and shipping are monitored closely. At each step of the manufacturing process, a thorough inspection of work in progress is made. Written inspection and test procedures are prepared to supplement drawings and specifications, as necessary. Employees follow the most effective, unbiased and efficient quality assurance procedures. When a customer requests that an item be adjusted, a definitive course of action is mutually agreed upon to secure your satisfaction.
No production runs are made until the first piece inspection is accepted. After the first piece inspection acceptance, in-process inspections will be made by the Quality Department to detect material that does not meet customer and Warden's, Inc. standards.
All testing, inspecting, and tooling equipment is inspected and calibrated on a regularly scheduled basis to ensure quality consistency and accuracy.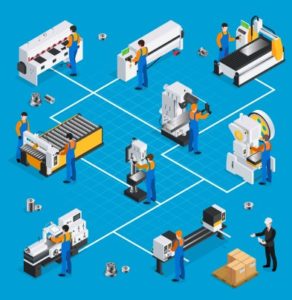 Warden's, Inc. Production Control
Production run schedules are monitored on a daily basis to help insure that delays are minimized and delivery dates are met. When final inspections are approved, text reports are completed and all final certifications have been processed, orders are shipped from our in-house Shipping Department.
All items are thoughtfully packaged to prevent damage, deterioration, and substitution before they are shipped to our customer.